Wholesale Personalised Mugs in Bulk
Promotional mugs are a fantastic way to show that your brand is here to stay!
Whether you have a message that you want to get out there, want to use them to create comradery among your team, or as a way to build bridges with prospective customers, our promotional mugs at Prince William Pottery will suit your needs perfectly.
Here at Prince William Pottery, we can cater for recurring wholesale mug orders, or one time batches. Give us a call and see how we can become your wholesale mug supplier. 
Wholesale mugs for printing in the UK
We have a range of mug styles and colours for you to choose from. Whether you have a particular shape in mind or would prefer a specific material, we are sure to have a mug to suit your needs.
See below for more information on what type of promotional mugs we have available.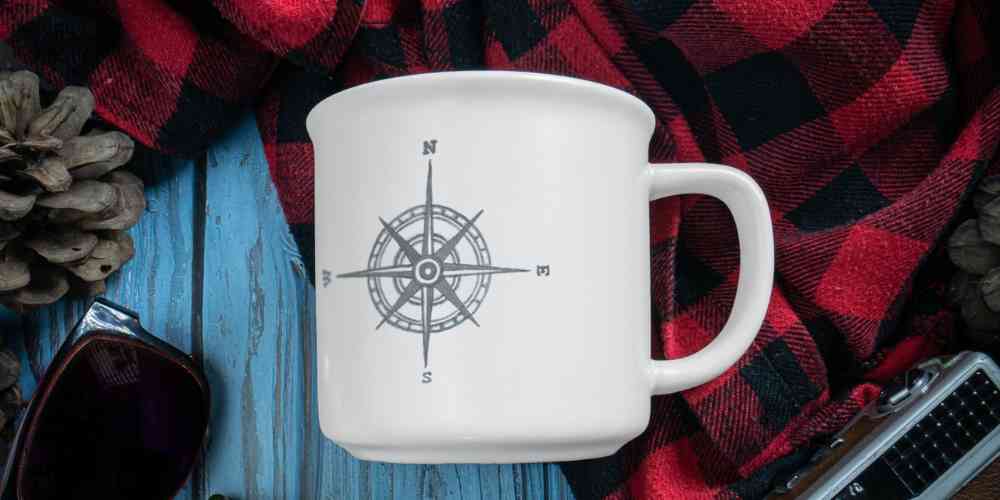 Earthenware mugs
If you want to buy cheap personalised mugs, then our earthenware mug range is the one for you.
These mugs are made of a type of kaolin clay that is blended with sodium feldspar and pottery stone then mixed with water. This clay mixture is effective at creating a large amount of quality mugs and will be perfect for any small business that wants to make an investment in its own marketing.
To make our earthenware mugs capable at holding an excellent print for our customers, we cover them in a ceramic glaze after we fire the mugs at over 1000 degrees. This also makes our mugs 100% dishwasher safe.
We have a number of moulds that we use for our earthenware mugs, which means that we have a range of shapes and thicknesses available.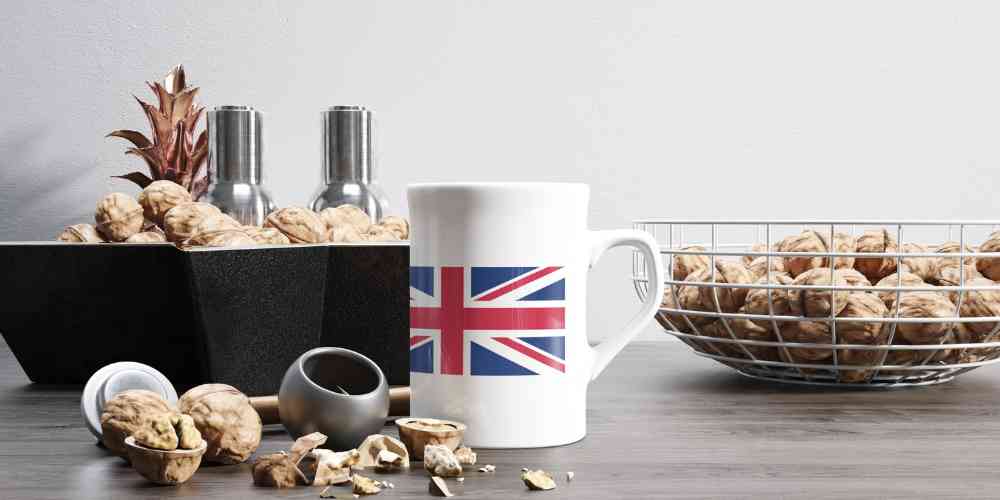 Bone china mugs
Our personalised fine bone china mugs allow our customers to display their branding on more elegant designs made with the highest quality porcelain.
Bone china mugs are a type of ceramic combined with animal bone ash. This calcium rich mixture makes for strong ceramicware and gives the material its distinctive milky white colouring.
Not only does bone china facilitate more elegant designs, but it is actually a very durable material as well. This means that your bone china mugs will be sturdy enough for everyday use while also looking their best!
So pair your business logo with a personalised bone china mug if you want a piece of merchandise that is truly second to none!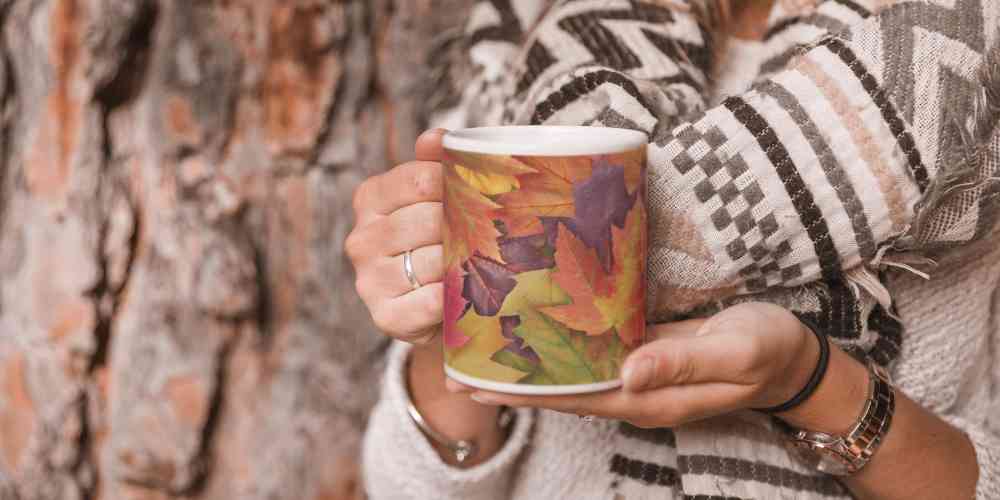 Dye sublimation mugs
If you want your mugs to stand out from the crowd, be memorable, and draw the attention of passers-by, then dye sublimation mugs are the ones for you!
Dye sublimation mugs are printed in a unique way using incredibly vivid organic inks that are capable of reproducing bright images with outstanding colour accuracy.
These designable coffee mugs are available in either black or white, so no matter what your design is we will make sure that it looks fantastic!
We can print a bigger surface area using dye sublimation too, so if you require a large design then we can do this with no issues.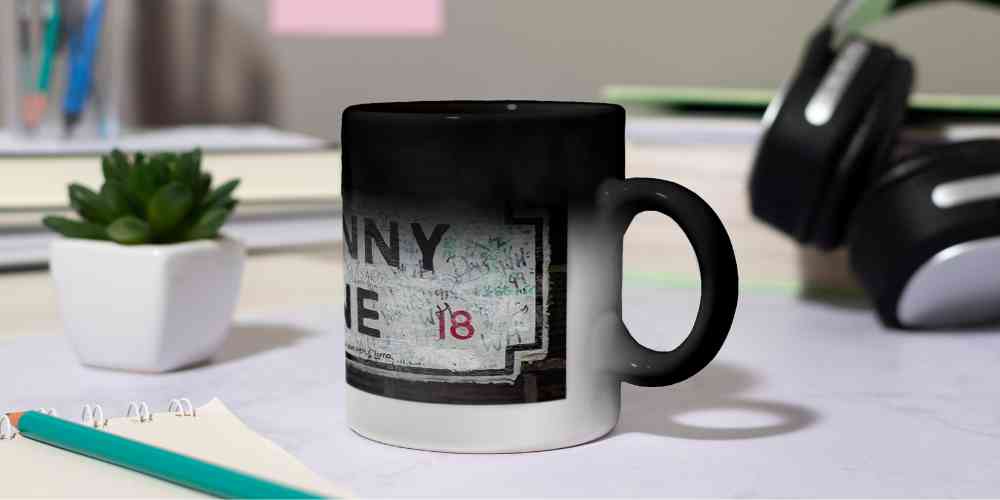 Wow mugs
Whether you know them as magic mugs or thermochromic mugs, our WOW mugs are sure to steal the attention of any observers!
These mugs have a special black screen print coating that becomes transparent when exposed to heat. Your mug may appear to be black at first, but when a hot drink is poured in it, your chosen design will be unveiled.
This feature gives you the chance to create really memorable designs that allow your business' logo to stick in the head of potential customers. And if you want to get even more creative, then we can over-print your mugs with permanently visible prints that add a whole new dimension to your design.
When you get in touch, our team will be able to discuss your design with you and offer ideas on how you can take full advantage of the thermochromic screen.
why you should use wholesale mug printing
Whether you want to build awareness of your brand or sell your own merchandise, Prince William Pottery is here to help you with wholesale promotional mug printing.
There are plenty of reasons why promotional mugs are a worthwhile investment for your business. For example, as a promotional tool, something as substantial as a mug is more likely to be held onto by potential customers.
Think about the number of leaflets or business cards you may have received over the years. Do many of them make it all the way back to your home or office?
Because everybody uses mugs, they are much more likely to be retained by recipients and seen on a daily basis! This makes mugs a must-have for any conferences, networking meet-ups, or corporate events that you may be attending.
Aside from building relationships with potential customers, promotional mugs are fantastic for team building. Presenting a new starter with their own company mug is a fantastic way to say 'welcome to the team' and help them feel at home.
What are mugs made of?
Mugs are most commonly made of porcelain or ceramic, with glass being another common material used to make mugs.
We create promotional mugs made of earthenware or bone china. Both of these materials are different types of ceramic as they are made with clay.
However, there are differences between them such as what temperature they are fired at. Bone china also contains bone ash and earthenware does not, which makes bone china stronger and gives it an iconic white colouring.
Prince william pottery
When bulk ordering promotional mugs from Prince William Pottery, we will keep you informed at every stage of the process just how your mugs are coming along.
You will receive a sample so that you can approve the design yourself, or compare samples and see what design you would like to proceed with.
Get in touch with our team at Prince William Pottery and we can work together on creating the best possible promotional mugs for your business!
Can you provide branded mug samples?
We supply pre-production samples for all orders before we start full production. We can send you samples of previous work, if you would like to check the quality of our products before ordering.
What is the minimum order?
Personalised mugs minimum order is 108 pieces.
What is the dispatch time for deliveries?
Please allow 7-10 working days from ordering. This includes sampling.
Do you offer discount on large orders?
The more you order the greater the discount.
Can you help with the design of my mugs?
Yes, we can offer you advice, type set and arrange your design, but you need to provide us with your logo's and images.
What is the shipping cost?
This depends on the quantity, we can provide a full quote if you know how many pieces you want.
Do you have a satisfaction guarantee?
We produce a physical pre-production sample for all orders to make sure you are happy with your personalised mugs before production.
Complete the enquiry form below and we'll get straight back to you with a price.