It will come as no surprise that the Coronation of King Charles was a monumental event, not just for the country as a whole, but for our business too!
While our business is named after the address where we began (Prince William Street, Liverpool), we naturally developed an association with the Monarchy as a result and have been producing royal memorabilia for generations!
Since Prince William Pottery was founded in 1937, we have been fortunate to see many Royal events and provide commemorative mugs for each occasion – whether it be Coronations, Jubilees, or weddings.
For the Coronation of King Charles, we made a range of coronation mugs using the following designs:
The official emblem for the Coronation of King Charles III (with or without personalised printing)
A Coronation crest with Royal cypher and an image of King Charles III
A silhouette of King Charles III with a black and white Royal cypher
And more!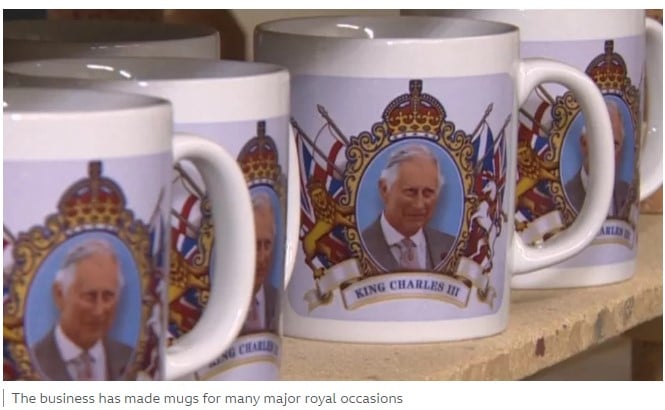 Whether displayed as a cherished collectable or used for everyday enjoyment, these mugs provide a lasting tribute to this significant milestone in British history.
After the Coronation wrapped up, we were thrilled to see that our business was featured on both BBC and ITV news!
This recognition from mainstream media underscores our place as one of the country's best pottery and promotional merchandise companies, and reflects the trust that we have earned from our loyal and lovely customers.
Our Coronation mugs are still available for purchase in limited stock, so if you would like to acquire a limited-edition commemorative mug then get in touch with us today and place an order!