Branded mugs have become a popular choice for companies, organisations and even individuals looking to promote their brands. However, have you ever wondered how these mugs are brought to life? From the initial design to the final delivery, there is a journey that these mugs undertake. In this blog post, we'll take you behind the scenes to give you an in-depth look at the print, production and delivery process of branded mugs. You'll learn about the printing process, quality control, and the people who work tirelessly to bring your branded mugs to life. So sit back, grab a mug of your own and get ready to dive into the world of printed mugs.
Designing Your Branded Mugs:
When it comes to creating branded mugs, the design process is key. Whether you're creating promotional mugs for your business or personalising mugs for a special event, the design is what will set your mug apart from the rest.
One popular method for creating branded mugs is through dye sublimation printing. The result is a high-quality, full-colour design that won't fade or peel over time. We have tested our dye sublimation mugs to over 2,000 washes!
Of course, before any printing can take place, you'll need to come up with a design that appeals to your audience. This may involve working with a graphic designer to create a custom design or simply using your brand's logo.
When designing your mug, it's important to keep in mind the size and shape of the mug itself, as well as any printing limitations that may apply. For example, certain designs may not translate well onto a curved mug surface. For instance, circular objects printed onto a curved surface can appear to be more oval, so your design will need to be tweaked to counter this effect. It is also important to make sure that any text within your design is not too small. You want to get your brand message to your customers as clearly as possible.
Ultimately, the design of your branded mugs will play a key role in their success. A well-designed mug will not only look great but will also help to promote your brand or event long after the initial printing and production process has been completed.
At Prince William Pottery, we will advise you on how to get the most out of your promotional mugs, and once you are happy with your design, we will produce a physical pre-production sample to make sure that we create the perfect promotional mug for your brand.
Printing You Branded Mugs:
Once the design has been approved, the next step in the process is printing. For promotional mugs, we use a process called dye sublimation printing, or dye sub for short. Dye sub printing is a digital printing technology that uses heat to transfer dye onto the surface of the mug, creating a full-colour image.
The artwork is first printed onto transfer paper using special dye sub ink. The transfer paper is then cut to size and wrapped around the mug, and secured with heat-resistant tape. The mug and transfer paper is placed in a special dye sublimation oven or heat clamp, where they are subjected to high heat and pressure. This process causes the ink to turn into a gas, which then permeates the surface of the mug and bonds with the dye sublimation coating on the mug.
The end result is a vibrant and durable image.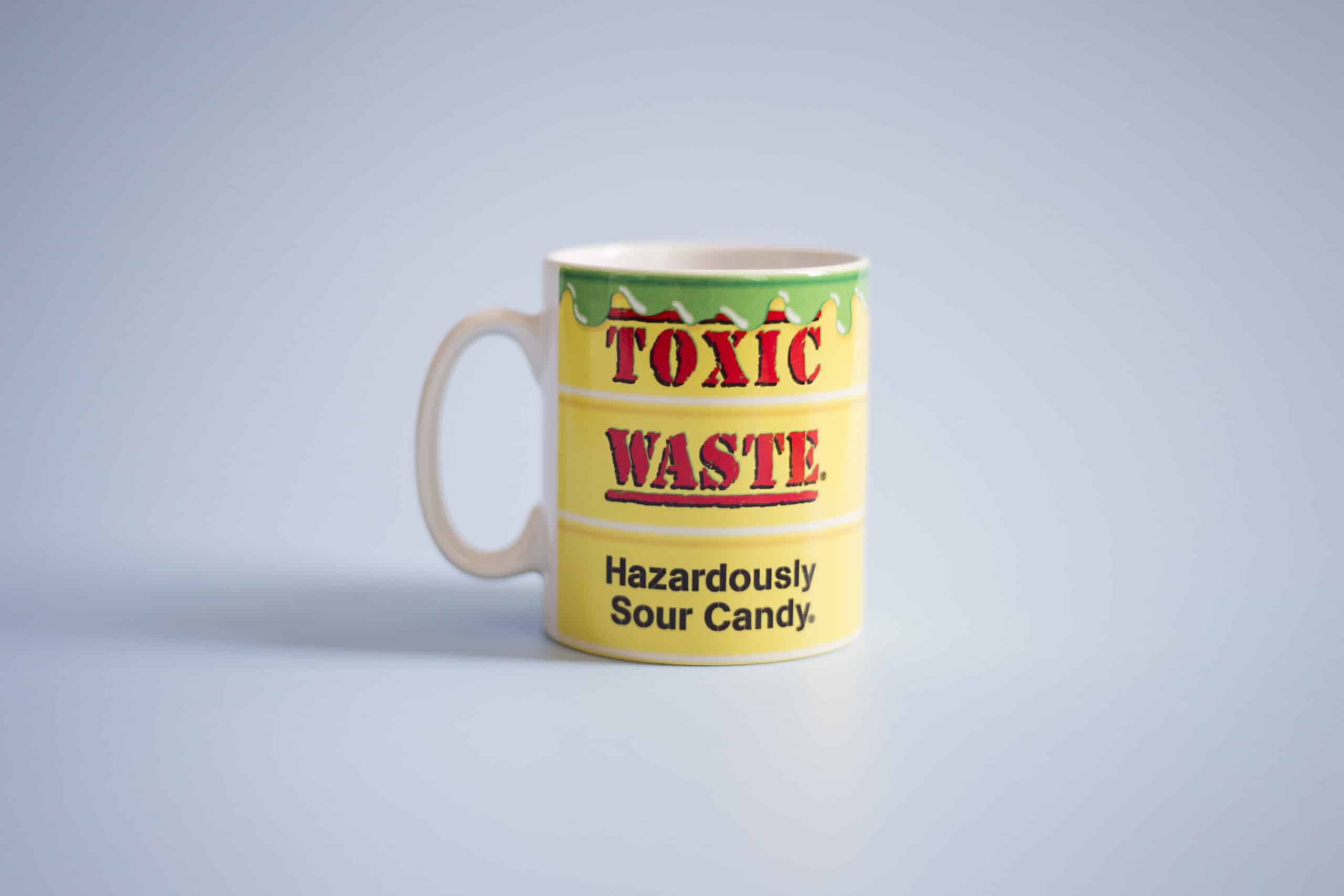 It's worth noting that the printing process itself is just one part of creating a high-quality promotional mug. Our team also employs rigorous quality control measures throughout the production process to ensure that every mug we produce meets our high standards. This includes inspecting the mugs for any defects, checking the alignment of the artwork, and verifying that the colours are accurate.
Producing Your Branded Dye Sub Mugs:
After the design and printing stages, it's time for the production team to swing into action. This is where the raw materials are turned into finished products – in our case, dye sub mugs that feature your custom design. The first step is to prepare the blank mugs,
Next, the dye sublimation process can begin. This involves transferring your design onto the mug using heat and pressure. The heat causes the ink to turn to gas and bond with the surface of the mug, resulting in a permanent, full-colour image.
Of course, this process must be done carefully and precisely to ensure the best results. The production team will carefully align the transfer paper onto each mug and use specialised equipment to apply the heat and pressure evenly. This helps to avoid any smudging, blurring, or other defects that can compromise the quality of your finished product.
Once the dye sublimation is complete, the mugs must be cooled and inspected for any issues. Quality control is a crucial part of the production process, as it ensures that every mug meets the high standards that customers expect.
Quality Control of Branded Mugs:
After the design is printed and sublimated on the dye sub mugs, the next crucial step is quality control. Quality control involves checking the mugs for any flaws or defects that might have occurred during the sublimation process. This step is necessary to ensure that only the best quality promotional mugs reach our customers.
At the quality control stage, our expert packers examine the dye sub mugs carefully. They inspect every inch of the mugs to ensure that there are no smudges, smears or inconsistencies in the print. If they find any issues, the mugs are either discarded or sent back for reprinting.
Moreover, they also check the overall structure of the mug, including the handle and body. They ensure that there are no cracks or deformities that might cause the mugs to break easily. All of these steps help to guarantee that only the highest quality products are sent out to our customers.
Quality control is a crucial aspect of the printed mug production process, and it is something that our team takes very seriously. By ensuring that every printed mug is thoroughly inspected, we are able to deliver products that meet our customer's expectations. So the next time you hold a printed mug in your hand, remember the effort that went into producing it. Thanks to the skilled and dedicated team behind the scenes, you can rest assured that your branded dye sub mugs will be made with care and precision every step of the way.
Delivering Your Branded Mugs
The final step in the journey of your printed mug is delivery to your doorstep. After the production process is complete, the mugs are carefully packaged to ensure they arrive at their destination in perfect condition.
Shipping methods can vary depending on the size of the order, location of the recipient, and desired delivery timeframe.
It's important to track your delivery to ensure a successful arrival. Prince William Pottery provide a tracking number so you can monitor your package's progress and be prepared for its arrival. If there are any issues or delays, don't hesitate to contact our customer service for assistance.
Once your branded mugs arrive, it's time to put them to use! Whether you're using them for employee gifts, giveaways, or as a part of your merchandise line, these mugs are a representation of your brand and a valuable marketing tool.
How Can Prince William Pottery Help Your Business?
Are you looking to promote your business, organisation, or event? Prince William Pottery offers a wide range of promotional mugs that can help you achieve your marketing goals. With over 40 years of experience in the promotional industry, we offer custom mugs that are perfect for corporate events, giveaways, and more. All of our products are made using high-quality materials, so you can trust that your investment will last for years to come. Whether you're looking for mugs with a single colour logo or a full-colour design, Prince William Pottery has something for everyone. We have a team of experienced professionals who will help you create the perfect promotional mugs for your needs. If you're ready to take your marketing strategy to the next level, let Prince William Pottery help you get there. Contact us today for your no obligation quote.