Promotional mugs are an affordable option to market any business. They are extremely effective as they can appear in nearly every setting, and you don't have to spend a fortune creating them either!
Choosing a cheap promotional mug can be a tricky process, especially because there are so many options for shapes, sizes, and materials.
In this article we will discuss common materials that make up the design of cheap promotional mugs, and explain why our materials are ideal for your business' promotional needs!
Materials for your cheap promotional mugs
Let's take a look at the cheapest materials available for promotional mugs.
Earthenware
Earthenware is also known as ceramic and it is one of the most common materials used to create promo mugs.
It is a solid, neutral material which does not absorb or impact flavours. It can also come in a variety of shapes and sizes.
We have a wide selection of earthenware products such as our Cambridge mug, Marrow mug, Sanfield mug, Bell mug, Sparta mug, Lincoln mug and Hillside mug. These mugs create a sturdy product which also boasts a print area that is big enough for your designs.
Bone China
Bone China is a quality material but you can still have cheap cost effective promo mugs made from Bone China.
Our bone china mugs are dishwasher friendly and chip resistant. This means that the material will last for a very long time even with heavy use.
We have a selection of bone china mugs including the Marlborough mug, Topaz mug, Opal mug and Balmoral mug.
Plastic
Plastic mugs are durable and, if made of recycled material, can be great for the environment.
They're also lightweight and easily transported, which may make them good options for promotional mugs. There are some issues though.
The downsides of using plastic as a material for your branded mug is that plastic doesn't last as long in terms of quality. It will scratch and crack overtime and eventually your logo or designs will fade away.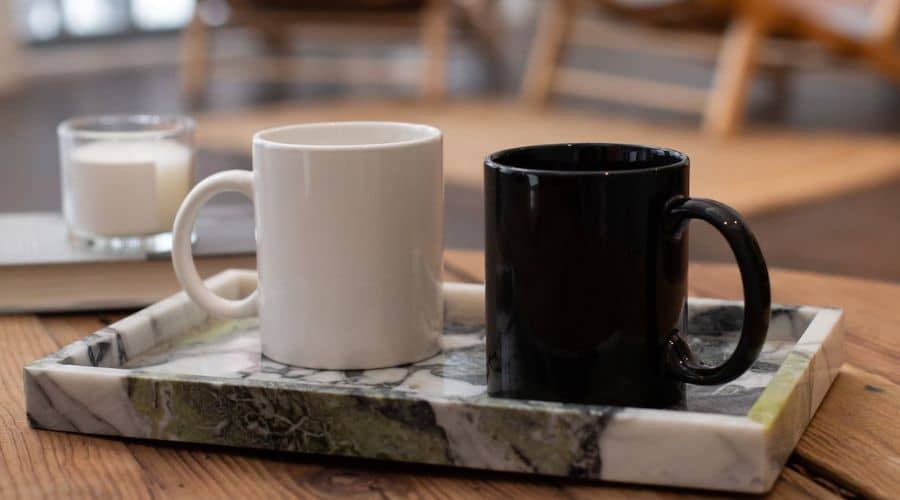 Steel
Steel branded mugs can be a fantastic option to help market your business. A main contributing factor to this is their hardiness, as well as their ability to be easily cleaned and maintained.
These mugs do not come cheap, though. Steel branded mugs are not only more expensive than other materials, but due to their weight they can be more difficult and expensive to transfer in bulk.
Glass
Glass is a very inexpensive material which can make it a cheap option when buying branded mugs in bulk.
Glass is also very easy to clean and maintain due to it being very dishwasher friendly. If you decide to use glass for your promotional mugs it is worth noting their fragility.
Glass is hard but very brittle. With this in mind it may not be wise to choose glass if you want your promo mugs to last.
Cheap Promotional Mugs at Prince William Pottery
These are a selection of popular materials you could use for your cheap promo mugs. At Prince William Pottery we sell quality proportional mugs which are made from bone china and earthenware.
We have a range of mugs and printing technologies at our factory to create your cheap promotional mugs.
Contact us and we will be happy to help you create a promotional mug to help achieve your marketing goals.