You might think that you don't need promotional products if you're a digital marketing agency or run an ecommerce store.
However, a well-placed piece of merch can help inspire brand loyalty, drive sales, and make more people aware of your business!
We've put together this short merchandising in marketing guide to show you how to use promotional products, and bulk personalised mugs, to the best effect.
Use promotional merchandise as part of a referral or loyalty scheme
Word of mouth is one of the most effective marketing channels around, with 78% of marketers agreeing that word of mouth is the best way to get good leads.
To encourage people to send prospective customers your way, you need to make it worth their while. This is when offering a cool piece of branded merch can work really well. Offering an exclusive mug, pen, t-shirt, or water bottle is much more enticing than a gift voucher or even money off!
Alternatively, you can use promotional merchandise as part of your loyalty scheme if you run an ecommerce store. The more customers spend with you, the more points they get, which they can spend on some awesome branded swag!
57% of customers spend more with brands that they are loyal to. This means that you can see a great return on investment with a solid ecommerce merchandising strategy driving sales for your business.
Promotional merchandise makes you stand out at a conference or expo
Even if you do most of your business digitally, your sales and marketing team may occasionally go out into the physical world to find new customers. For example, at a trade show, networking event, or digital expo.
When you have a stall, you need to encourage visitors to come over and talk to you. One of the best ways to do this is to offer some exciting merchandise to take home with them.
Here's one of our favourite ideas – take some bright dye sublimation mugs with your logo on them, fill them with tasty sweets, and place them on your table. Then after the exhibition is over and the sweets have been eaten, your prospective customers will have a mug they can use at work. When they need your services, your business will be the first on that comes to their mind!
If you're planning a market expansion strategy, memorable promotional merch is the way forward!
Find out more about the benefits of promotional mugs for your ecommerce or digital business.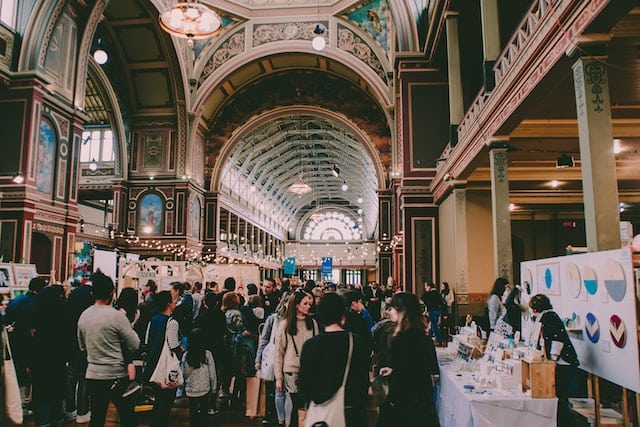 You can use promotional marketing to amplify your reach on social media
If you're a digital company, you want to ensure that your social media channels are on point and you get good engagement. You can use merch in your marketing strategy to ensure your posts reach far and wide!
We saw a brilliant example of merch being used on social media recently. An ecommerce business posted funky stickers out with orders and encouraged customers to upload photos of their stickers in use on social media, using the company hashtag.
People posted photos of the stickers on laptops, folders, and suitcases, leading to a massive boost in publicity for the business.
Alternatively, you can use branded merch as a prize on social media. Encourage your followers to answer a question you ask or persuade them to submit a caption to a photo you post. The best response gets a gift bundle of mugs!
Find out more about the use of promotional mugs in the digital age.
Prince William Pottery: exceptional mugs to support your ecommerce merchandising strategy
Even if you function completely online, promotional merchandise is a fantastic addition to your marketing strategy. Don't underestimate the power that merchandising in marketing can offer your business!
We specialise in designing and manufacturing mugs for companies all across the UK. Whether you want a dainty china mug for customers to enjoy their afternoon cup of tea, or a colour change mug to wow clients at trade expos, we can help.
Using the latest state-of-the-art machinery, we create stunning mugs in bulk to your exact specifications, at a price that will keep your CEO happy!
Contact us today for your free, no-obligation quote.