A Local Artist Case Study
As an artist, it's essential to find ways to showcase your art and get it into the hands of those who appreciate it. For one local artist, Collette Collinge, this meant creating a product that people could use every day.
The artist wanted to design personalised mugs with her artwork printed on them to sell at art shows and on her online store. She believed this would not only be a great way to showcase her artwork but also offer a practical use for her customers.
The artist began by doing research on companies that specialised in mug printing when she discovered Prince William Pottery.
Prince William Pottery was the ideal choice as she was seeking premium-quality mugs that stand out. With our range of quality mugs and printing techniques, we gave her options that bought her art to life on printed mugs. Prince William Pottery also offered affordable pricing, fast turnaround times, and positive customer feedback.
Design mugs to sell
Next, the artist prepared her artwork for printing. She wanted her designs to stand out and be easily recognisable.
She chose bold colours and striking patterns that would catch the eye of potential customers. The artist took great care in ensuring her artwork was high-resolution, to guarantee her art was showcased to its full potential on her printed mugs.
How to make custom mugs to sell
After the designs were finalised, the artist sent them off to Prince William Pottery. Once we received the artwork files, we produced a pre-production sample, as we do for all orders for branded mugs. To make sure the design was exactly as the artist envisaged.
Once the printed sample was approved, Collette chose to print a small batch of mugs initially to see how they sold. Prince William Pottery delivered the mugs within a week, and the artist was delighted with the quality of the print.
She set up a table at a local art show to sell her new product and got positive customer feedback.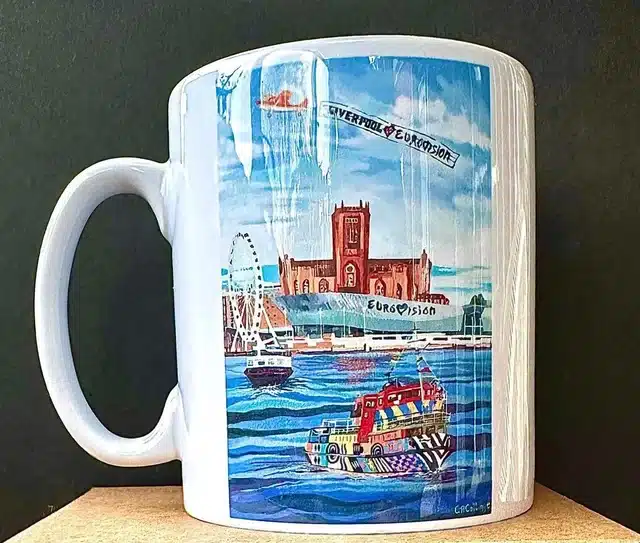 Is selling mugs profitable?
The artist's mug designs were a hit, and she sold out of her first batch within a few hours. The unique and beautiful designs stood out amongst other products, and customers appreciated the practical use of the branded mugs.
The artist continued to purchase more mugs from Prince William Pottery, and her product line has grown to showcase different pieces of art and create special ranges to mark particular events, most recently, the Euro Vision Song Contest held in Liverpool.
How to sell art online UK
Creating a product that showcases your artwork is an excellent way to promote your business as an artist. For this local artist, designing mugs with her artwork printed on them was a practical and profitable solution.
By carefully selecting a printing company and taking great care in designing her artwork, she was able to create a unique product that stood out in a competitive market.
The artist was thrilled with the positive feedback and success of her product line, and it's a reminder that there are always innovative ways to promote and sell your art.
Put your art onto products with Prince William Pottery
Prince William Pottery's fast production times and low minimum orders offer artists the flexibility to suit their needs best.
Collette Collinge said of Prince William Pottery "Superb quality, quick production and great communication. A great group of people to do business with!"
Contact us today and we can get started putting a sample batch together for you!