Branded mugs can be a fantastic tool to use as a part of your overall marketing strategy. They are ubiquitous items which are found in nearly every home and workplace.
With quality products, your branded mugs will last for years. This means that your business name, logo, or branding could be seen by thousands of people over its lifespan!
This is a very powerful feature that not many other marketing methods can pull off.
But what type of branded mug should you choose?
We shall delve into that question in this post and take a look at the different types of branded mugs we have on offer.
What is the best type of branded mug?
The best type of branded mug can change depending on your business' circumstances. This is because all branded mugs have different qualities that are suited for different needs.
You may want to save money and go for a basic design on a budget printed mug, or you may want a more memorable mug that you can hand out as promotional gifts.
So there really is no 'best type' when it comes to branded mugs. You should instead look for a quality branded mug, made of sturdy materials, and that comes with a durable print.
Here's a selection of the type of branded mugs that we supply:
Earthenware Mugs
Earthenware branded mugs are a great choice when it comes to choosing great value branded mugs. 
Earthenware is relatively inexpensive, making it a great choice for bulk promotional mugs. so if you need any bulk promotional mugs then earthenware could be the best choice for you.
It is also very easy to maintain and keep clean, meaning it can last longer than some other materials.
The earthenware mugs we supply come in a range of shapes and sizes to suit all of your marketing needs. These include:
Sandfield Mug –

Has a large print area and a range of color options.

Marrow Mug –

One of our best sellers with a large capacity.

Cambridge Mug –

A timeless shape which is perfectly suited to promotional designs.
Bone China Mugs
Bone china mugs are made from the highest quality ceramic. This makes them strong, durable and chip resistant.
These quality mugs are dynamic in their use and can be used for promotional uses or special occasions.
The unique features and stunning shapes that we have on offer for our bone china mugs range varies. These include:
Marlborough Mug –

Boasts a distinct handle and is large enough to host a sizable print design.

Topaz Mug –

A mug that has fine features making it a perfect choice for bone china printed mugs.

Opal Mug –

A classical style mug with a considerable print area.

Balmoral Mug –

A standout bone china mug that comes in a quality white finish.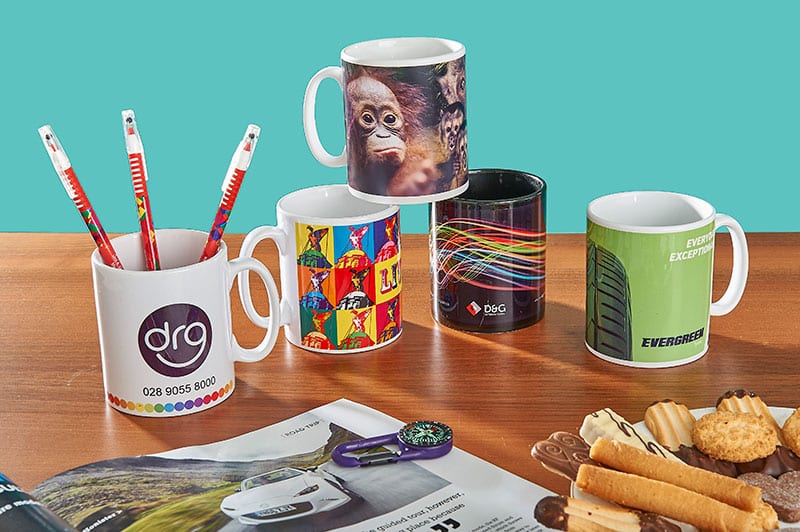 Dye Sublimation Mugs
Dye sublimation mugs are made with full colour images or graphics printed onto them. This is a great option if you want your branded mugs to be as colorful and vibrant as possible.
Marketing your business using branded mugs will require you to stand out and get your designs noticed. Due to the accuracy and quality of dye sublimation, you can definitely achieve these goals.
The dye sublimation printer will print your design onto a special kind of paper. Then this paper is applied to the body of the mug and fixed to it with tape and clamps to keep it tight.
This is then put into a kiln and the sublimation process takes place, leaving behind a striking and lasting design.
WOW Mugs
If you want your branded mugs to stand out above the rest, use our WOW mugs.
Along with the dye sublimation process, we also apply a heat sensitive coating to our WOW mugs that reveals a hidden design when exposed to heat.
Pour some boiling water into your WOW mug and the heat sensitive coating will disappear and reveal the cool and colourful design beneath it.
Branded Mugs at Prince William Pottery
As you can see, there is an eclectic mix of branded mugs to choose from here at Prince William Pottery.
There is no perfect option for you to choose but all the above mentioned types will brand your business effectively.
Get in touch with us today for your free, no-obligation quote.